Whistle Stop Tour 2018 nets the support of England boss Gareth Southgate
England football manager Gareth Southgate has lent his support to a team of two-wheeled fundraisers as they prepare to cycle from the UK to Russia in time for the World Cup.
The cyclists - including Premier League referee Martin Atkinson and Mike Tomlinson, husband of the inspirational Jane Tomlinson CBE - will be journeying almost 1,800 miles in just 18 days from St George's Park to Kaliningrad. 
Setting off on June 11th, the Whistlestop Tour 2018 team aim to make it to the Russian enclave between Poland and Lithuania by June 28th - when England take on Belgium in the last game of the World Cup group stages.
Together they aim to raise a massive £40,000 for four causes close to their hearts: The Jane Tomlinson Appeal, Yorkshire Young Achievers, St David's Hospice Care in Newport and the University Hospitals Coventry and Warwickshire Charity.
Gareth said: "This really is an epic endeavour; cycling 1,800 miles in 18 days is no mean feat and I wish the team all the luck in the world. There will no doubt be some very sore legs by the end of the challenge!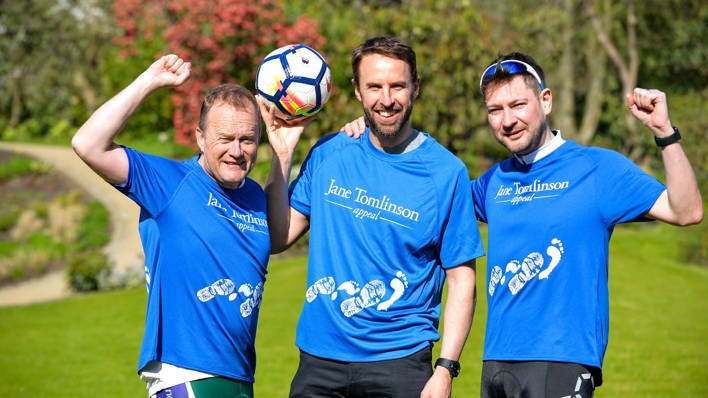 Joined by guest cyclists along the way, the team will depart the FA's National Football Centre at St George's Park
"I hope as many people as possible will get behind them and help Martin, Mike and the team raise a huge sum for these very worthy charities." 
The Whistlestop Tour 2018 - dubbed '18 Days of Hurt' - follows Martin's 2016 challenge when he and fellow referee Jon Moss rode between all 20 Premier League football grounds.
Martin Atkinson said: "It's going to be a huge challenge, but it's one I think we're all relishing.
"In 2016 we cycled to all 20 Premier League grounds, which totalled around 1,000 miles, so we're really upping the ante for this one.
"We've been saying it'll be 18 days of hurt, but it's all for some brilliant charities, so we're ready to go through that pain barrier!
"We want to raise as much money as we possibly can, so any donation, large or small would be gratefully received."
Mike Tomlinson said: "This seemed like a good idea when Martin first mentioned it. Now, with less than two months to go, having hardly done any training, it's starting to seem less so …
"Eighteen days on a bike to Russia is certainly going to be a huge challenge. It's great to get the support of Gareth Southgate - let's be honest, we're going to need all the help we can get!"
Joined by guest cyclists along the way, the team will depart the FA's National Football Centre at St George's Park and then take in France, Holland, Belgium, Germany and Poland before arriving in Kaliningrad.
More news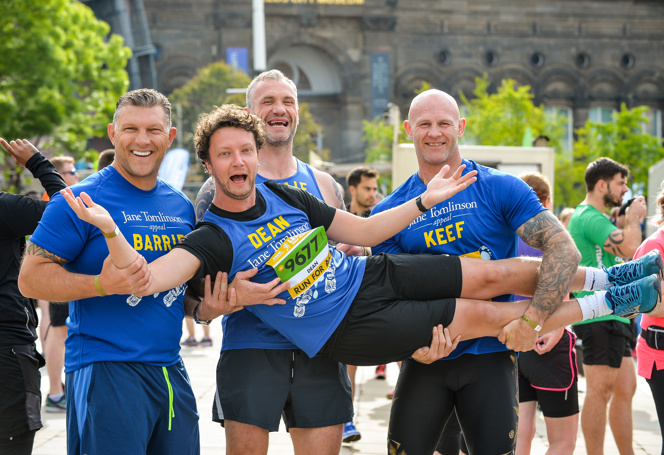 03.05.18
Actor Dean Smith is stepping into the spotlight in a challenging new role - as a Leeds Half Marathon runner! The star of Last Tango in Halfiax and Waterloo Road is the latest to join the 150-strong Jane Tomlinson Appeal team, alongside former Leeds Rhinos legends Jamie Peacock and Barrie McDermott who have already pledged to pull on their trainers.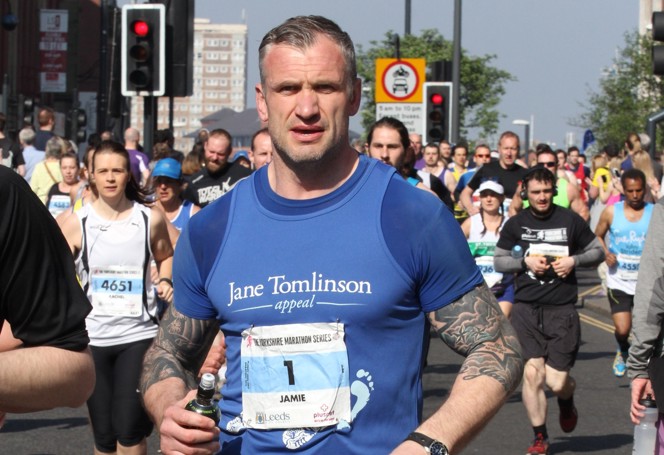 20.04.18
Leeds Rhinos legend Jamie Peacock is pulling on his running shoes to take on the Leeds Half Marathon next month.
View news