Peterborough charities receive £5,000 from the Appeal!
Five local charities and good causes have received a £1,000 cash prize from the Jane Tomlinson Appeal, a charity which partners with the Perkins Great Eastern Run.
The Appeal asked the people of Peterborough to nominate their favourite local cause to receive a cash injection and hundreds of suggestions were made.
Five causes have been selected to receive £1,000 each.
The successful causes are:
No Gain No Pain UK
Personalised Eating Disorder Support (PEDS)
Cruse Peterborough
Inspire Peterborough
Carers Trust Cambridgeshire & Peterborough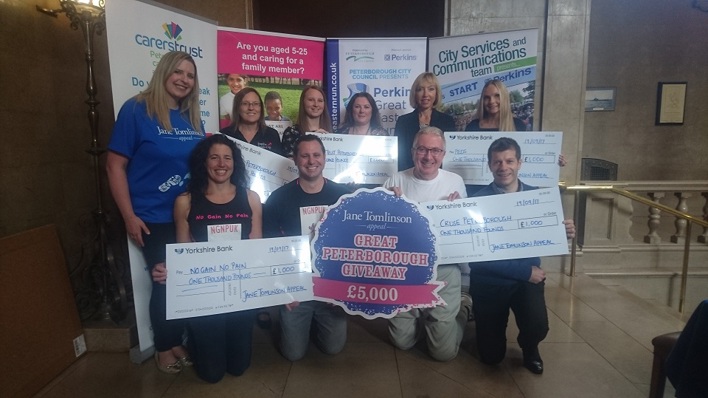 Thrilled to be able to support some fantastic causes
Appeal Manager Kate Goldring said "We were overwhelmed to read all the nominations, clearly a lot of great work takes place in the Peterborough community. For us, it's important to give back to the communities who support us and through our partnership with the Perkins Great Eastern Run; the people of Peterborough have done just that. We're thrilled to be able to support five fantastic causes in the area."
No Gain No Pain UK is a small local charity raising money for syringe drivers to be used in the local community. A syringe driver is a small computerised machine that can be programmed to give patients a measured dose of pain relief and other drugs during palliative care. The machines can help patients remain at home with loved ones instead of going into hospital or a hospice. Lee Nicholls of No Gain No Pain responded to the news of the donation and said: "Syringe drivers cost £1,100 each.
Many large areas were sharing just one or two of these machines and we are slowly managing to increase these numbers. "We have donated an extra 18 machines over the last two years and these have been in constant use since they were handed over. We are extremely thankful to the trustees of the Jane Tomlinson Appeal for supporting our cause."
Annette Joyce, race director for Peterborough City Council, said: "A fantastic amount of money was raised for good causes at last year's race which will now go to supporting very worthwhile causes nominated by the residents of Peterborough. It proves yet again that the Perkins Great Eastern Run is not just a race, but a real community event that benefits many good causes both through the Jane Tomlinson Appeal and the many other charities that benefit as a result of those taking part. The Jane Tomlinson Appeal was launched as a lasting legacy to Jane Tomlinson CBE who died from cancer in 2007. Before her untimely death aged just 43, Jane raised £1.8m for children's and cancer charities through a series of incredible endurance feats - despite suffering from terminal cancer.
Although Jane spent most of her life in Yorkshire, she lived in Peterborough when her husband Mike worked in the city. Their daughter Rebecca, one of three children, was born at Peterborough District Hospital. Rebecca, who ran the half marathon in 2016 for the appeal, said: "We're so excited that the Perkins Great Eastern Run has chosen to support the Jane Tomlinson Appeal again in 2017. "My parents moved to Peterborough not long after they got married and I was born there, so the city will always be really special to me. To know that the city is helping to carry on mum's legacy now is really touching for me."
The Jane Tomlinson Appeal is proud to be the charity partner of the Perkins Great Eastern Run for a second year this October 8th and is welcoming entrants to sign up and fundraise for the Appeal. 
More news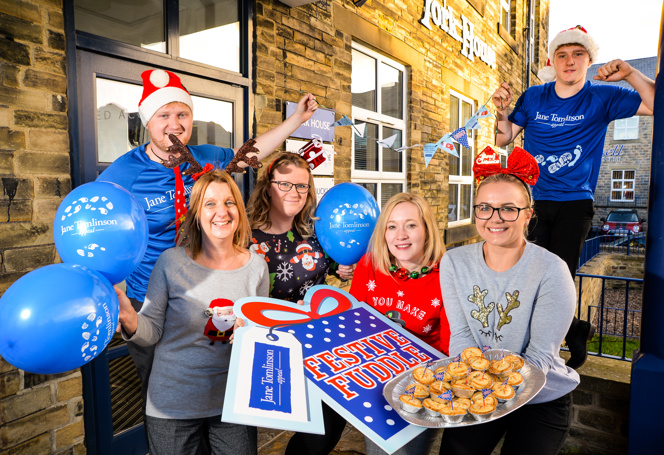 06.12.17
The Jane Tomlinson Appeal has launched their brand new Christmas Campaign, the Festive Fuddle and are asking you to gather your friends and show your support for your local children's and cancer charities this Christmas.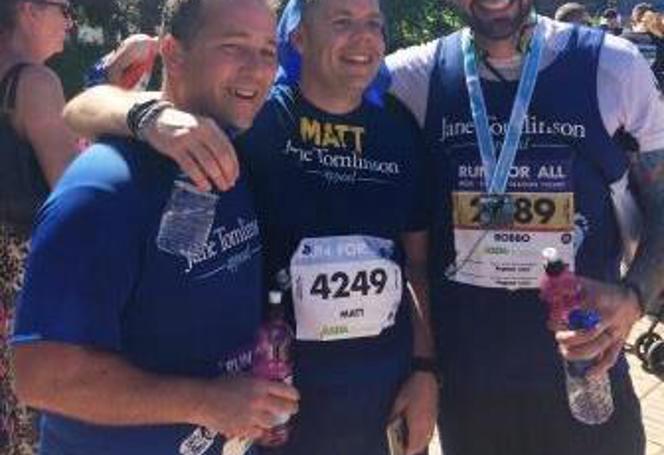 21.08.17
Following his epic '2016 miles in 2016', Appeal Team fundraiser Steve Irving has recently announced his 2018 challenge: he will be aiming to complete twelve marathons in twelve months, plus a 'Coast to Coast' challenge with fellow Appeal Team members Matt Fowler and Robbie McEwan.
View news