The Appeal Team is set to Ride to Rio
The Appeal is delighted to today announce an exciting challenge taking place this summer.
A decade ago, Jane was about to embark on her biggest ever challenge - an exhausting 4,200 mile ride across America.
Inspired by Jane's remarkable courage and to mark this anniversary, her husband Mike has set The Appeal's biggest challenge to date. This summer Mike will cycle over 3,000 miles from the UK to Brazil to raise money for The Appeal. 
Mike will be joined in the epic adventure by a team of supporters including TV presenter Charlie Webster and ex-Rugby League professionals Keith Senior and Paul Highton. The journey will take them from London's Olympic Stadium to the Maracanã Stadium in Rio de Janeiro covering 90 miles a day with only one rest day in every seven.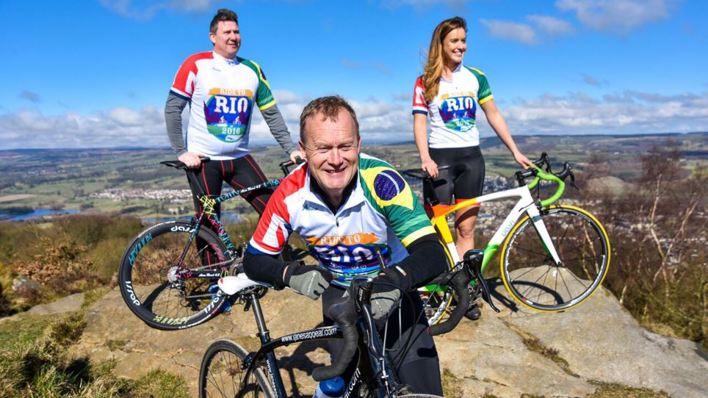 Setting off on June 27th the team have 6 weeks to complete the challenge. Starting from London they will travel to Le Havre in France before pedalling their way to Lisbon, covering 1,231 miles of testing terrain. The team will then fly to Recife for the final stage of the challenge where they will cycle 1,600 miles along the Brazil coast to reach the finish line in Rio de Janeiro.
Depart London's Queen Elizabeth Stadium on 27th June 2016
Arrive Maracanã Stadium, Rio de Janeiro on 4th August 2016
The cycle will take six weeks
They will cover around 3,000 miles.
They will be riding 90 miles a day, with only one rest day each week
Mike said "On the 29th June 2006, Jane set off to cycle across the USA at a time when she knew her cancer was aggressive and in its final stage. Her success was testament to her incredible mental strength. The Appeal, and we as a family, wanted to mark this milestone in a special way. As Jane was an ambassador for the 2012 London Olympics bid, it seemed appropriate to celebrate her life by cycling to Rio. Hopefully, the challenge will help us raise some money, but we also hope that by reminding people about Jane's journey, it will inspire other people - and show just what can be possible with courage and determination."
Team member Charlie Webster said "Jane showed complete determination and courage throughout her diagnosis and if I can have an ounce of that courage then I know I'll be fine. It's going to be a long, hot journey, but as a sports fan, the thought of cycling into Rio gives me goose bumps and doing it for such an amazing cause makes it even more special." 
Paul Highton, who plans to pedal the full 3,000 miles, said: "Jane Tomlinson was an inspiration to all of us who care about both life and sport and I feel privileged to be able to help build on her fantastic legacy on the Ride to Rio with Mike, Keith and Charlie.  From a personal point of view I'm looking forward to helping Rugby League Cares, a charity which does so much good for players and everyone else involved in the sport. It's good to be able to put something back into a game that means so much to so many people."
Keith Senior, who will join the team for the entire Brazilian leg, said: "I've done a lot of challenges since I retired as a player because like all sportsmen I'm always looking to test myself and this one is the biggest test of all. It's great to have this opportunity to raise fund for the Jane Tomlinson Appeal, Rugby League Cares and the Sheffield Eagles Include Foundation, of which I'm a trustee.  Rugby League Cares does a lot of good work to help players succeed in their life after sport and I'm delighted to be doing the Rio Challenge on their behalf."
Show the team your support...
Between now and the offical start date the team will be clocking up the training miles to prepare themselves for what is set to be an amazing yet challenging journey. The Appeal would welcome any support that you can give them on the build-up and during the challenge. To sponsor the team go to:
or text JRTR70 £5 to 70070 to donate £5.
A share of the money raised from the Rio Challenge will also go to support Rugby League Cares, a dedicated charity supporting the Rugby League family and its local communities.
Want to get involved?
Visit the challenge website www.ride-to-rio.com to find out more about the team and how you and your colleagues or friends can also 'Ride to Rio' this summer.
More news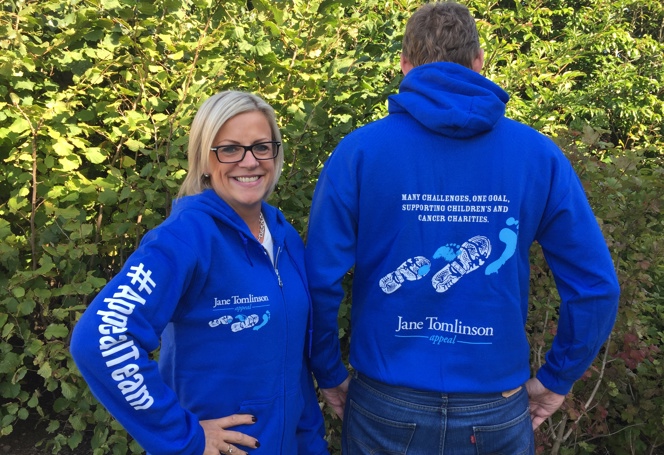 20.10.16
We have exciting news! Following a number of requests from the Appeal Team we have had hoodies designed for you all. Available in a pull over or zip up style, these are the perfect match for your blue Appeal running top. The hoodies are blue and sport the Jane Tomlinson Appeal logo, classic footprint design and #AppealTeam on the arm, so you can truly show your team colours!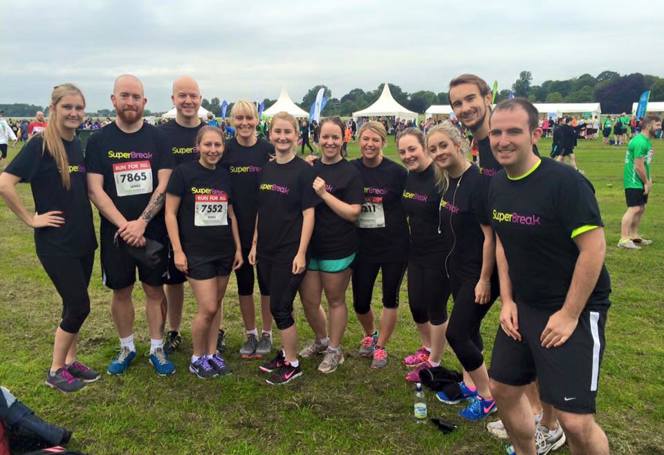 24.02.16
Short break specialist SuperBreak raised money for the Jane Tomlinson Appeal by completing the 2015 Run For All York 10km. We discovered how they achieved this and their motivations for taking part…
View news